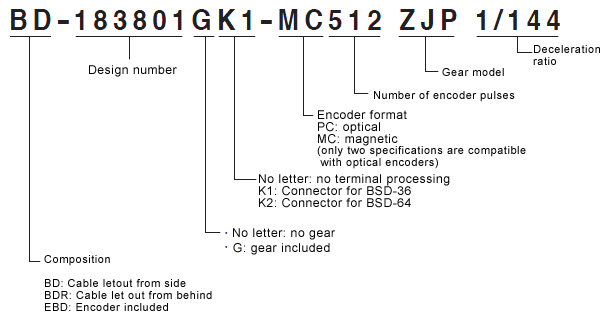 ・High output
The rotor uses Nd magnets. The stator was designed for maximum output per unit volume to maximize winding.
・Long service life
Since these are brushless motors, the only limit to service life is how long the ball bearings last.
・Smooth revolutions
Thanks to the unique slotless winding structure used by our company, smooth revolutions are possible from low to high speeds.
・Low heat generation
As the flat magnetic steel sheets used possess superior high frequency characteristics, iron loss during high speed revolutions was decreased alongside the amount of heat generated.
・Full lineup
A total of 40 models are available in the lineup, in sizes such as φ16mm, φ18mm, φ22mm, φ26mm, and φ30mm.
・Special orders taken
We accept special orders designed to suit your needs, based on the motors featured in our product lineup. These include models compatible with vacuums, generated gas-proof, and dustproof models.
| | | | | | | |
| --- | --- | --- | --- | --- | --- | --- |
| BD-165101 | BD-16 Series | 16 | 51 | 4.1~10.2 | 7500~12600 | 10.1~11.3 |
| BD-16514 | BD-16 Series | 16 | 51 | 4.1~10.2 | 7500~12600 | 10.1~11.3 |
| BD-183801 | BD-18 Series | 18 | 38 | 7.8~8.7 | 12600~18900 | 6~9.2 |
| BD-18384 | BD-18 Series | 18 | 38 | 7.8~8.7 | 12600~18900 | 6~9.2 |
| BD-18540 | BD-18 Series | 18 | 54 | 2.7~13.9 | 5100~12500 | 13.8~17.1 |
| BD-18544 | BD-18 Series | 18 | 54 | 2.7~13.9 | 5100~12500 | 13.8~17.1 |
| BD-22370 | BD-22 Series | 22 | 37 | 7.9~11.1 | 9400~12600 | 8.9~12.8 |
| BD-22374 | BD-22 Series | 22 | 37 | 7.9~11.1 | 9400~12600 | 8.9~12.8 |
| BD-22530 | BD-22 Series | 22 | 53 | 8.5~28.3 | 5700~13500 | 21.2~26.5 |
| BD-22534 | BD-22 Series | 22 | 53 | 8.5~28.3 | 5700~13500 | 21.2~26.5 |
| BD-262641 | BD-26 Series | 26 | 26 | 3.9 | 9800 | 9.4 |
| BD-26500 | BD-26 Series | 26 | 50 | 8.1~32.3 | 5500~11200 | 8.1~32.3 |
| BD-26504 | BD-26 Series | 26 | 50 | 8.1~32.3 | 5500~11200 | 8.1~32.3 |
| BD-2664 | BD-26 Series | 26 | 64 | 19.9~36.8 | 5600~11300 | 19.9~36.8 |
| BD-3040 | BD-30 Series | 30 | 40 | 14.7~18.3 | 7700~10000 | 22.3~29.7 |
| BD-3055 | BD-30 Series | 30 | 55 | 15.9~36.6 | 4700~8100 | 50.1~56.4 |
| BD-3070 | BD-30 Series | 30 | 70 | 32.4~53.9 | 5900~8400 | 67.2~79.4 |